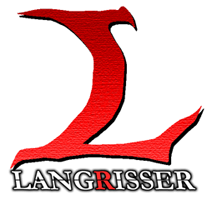 Welcome to the Langrisser Wiki
Edit
This wikia is dedicated to the fans of Langrisser (ラングリッサー)
Describe your topic
Edit
Langrisser (ラングリッサー) is a five-part video game series created by Masaya, the software division of Nippon Computer Systems created in the early 1990s. The development team working under Masaya is CareerSoft.
The games are set in a world where there are only two known mega-continents: El Sallia and Yeless. With the exception of the fourth and fifth installments, all games are set exclusively on El Sallia, although references are sometimes made to the other continent. The series maintains a fantasy Germanic setting, but draws on religious concepts like ditheism and sword worship for historical context.
Latest activity
Edit
Ad blocker interference detected!
Wikia is a free-to-use site that makes money from advertising. We have a modified experience for viewers using ad blockers

Wikia is not accessible if you've made further modifications. Remove the custom ad blocker rule(s) and the page will load as expected.